News
Shakespeare in the Parks: The Tempest Summer 2023 Tour
June 8, 2023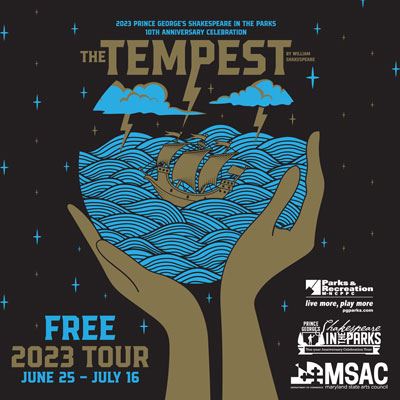 FOR IMMEDIATE RELEASE: June 7, 2023
Program Contact: Megan Merchant, 301-446-3228
Media Contact: Angel Waldron, 301-446-3311


M-NCPPC, Department of Parks and Recreation in Prince George's County Announces
Shakespeare In the Parks: The Tempest
Riverdale, MD – Each summer, the Prince George's Shakespeare in the Parks tours a professional, family-friendly production of one of Shakespeare's plays throughout the county, making great theatre available to everyone. Enjoy free, entertaining, and accessible productions of the work of the greatest playwright of the English language at parks and arts centers throughout Prince George's and Montgomery counties. Bring your lawn chair, a picnic, and enjoy the Bard under the stars.

Tour Schedule: June 25 – July 16; Click Here to view locations, dates, and times.
The Maryland-National Capital Park and Planning Commission's Arts and Cultural Heritage Division is proud to announce our 10th Anniversary Celebration Tour with the show that started it all, The Tempest, directed by founding Artistic Director Christopher Dwyer. This 1980s-infused tale follows Prospero, who is stranded on a deserted island in the Mediterranean with his daughter Miranda, narrowly escaping his evil brother. He now comes to grips with a life he left behind and whether to enact revenge on his brother who has just washed up on shore. Complete with magic, fairies, and physical storytelling, this fast-paced 90-minute outdoor adventure is perfect for the entire family.
This program is supported in part by the Maryland State Arts Council (msac.org). For more information, call 301-446-3238.
About the Department
The M-NCPPC, Department of Parks and Recreation delivers an award-winning park system through progressive, innovative leadership and a commitment to the community and the environment in Prince George's County. For more on the Department of Parks and Recreation, visit www.pgparks.com and stay connected on Facebook, Twitter, PhotoShelter, and Instagram. The Department of Parks and Recreation encourages and supports the participation of individuals with disabilities in all programs and services. Register at least a minimum of two weeks in advance of the program start date to request and receive a disability accommodation.