News
The Maryland-National Capital Park and Planning Commission Wins $18.5 Million Federal Grant to Improve Trail Networks
June 29, 2023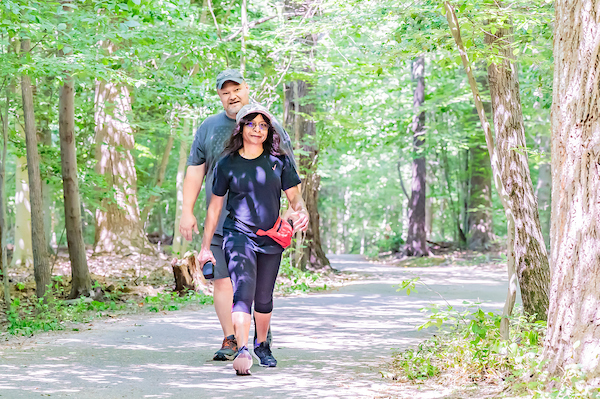 FOR IMMEDIATE RELEASE: June 29, 2023
Media Contacts: Melissa.Chotiner@MontgomeryParks.org and Angel.Waldron@pgparks.com
Money from the Rebuilding American Infrastructure with Sustainability and Equity (RAISE) grant will be used to enhance trails in Montgomery and Prince George's Counties as part of the Capital Trails Network.
RIVERDALE, MD – The United States Department of Transportation (USDOT) announced this week that The Maryland-National Capital Park and Planning Commission has been awarded an $18.5 million RAISE grant to fund the rehabilitation of multi-use paths to fill gaps in the Capital Trails Network – a plan developed by local jurisdictions, the National Park Service and trail advocacy organizations, to connect 990 miles of trail between Virginia, Maryland and the District of Columbia.
The grant underscores the importance of connected trails and active transportation infrastructure to equitably deliver quality-of-life benefits across the region. This grant provides 34% of the funding needed for the renovation or construction of five high-priority projects in the network, which provide new access to recreation, outdoor space, and multimodal transportation in underserved neighborhoods.
"These enhancements to Prince George's and Montgomery County's trails and connections will allow residents to travel by bicycle, foot, and other non-motorized means, easily and safely, and enjoy our park resources. This win is an important step as we work to design and construct our remaining planned trails in the Capital Trails Network," said Peter A. Shapiro, Chair of The Maryland-National Capital Park and Planning Commission.
"This award will allow us to make much-needed improvements to existing hard-surface trails within the Capital Trail Network in some of our most densely populated neighborhoods, providing better outdoor recreational opportunities, connecting communities, and building a more resilient transportation network," said Michael Riley, Director of Montgomery Parks.
"The Department of Parks and Recreation has an amazing trail system for community who want to engage in active recreation and transportation. The RAISE Grant funding allows us to improve our trails by extending them; performing maintenance and upgrades on existing trails; and repairing bridges and boardwalks," says Bill Tyler, Director of the M-NCPPC, Department of Parks and Recreation. "Additionally, we've begun upgrading and improving way-finding signage, directional signage, and updating trail maps. Results of a 2021 study done on behalf of M-NCPPC showed that 19% of residents in Prince George's County households had unmet needs regarding walking, hiking, and biking trails. The RAISE grant funds help us meet the residents' needs more quickly and in line with our long-term strategy in trails on Commission parkland," Director Tyler concludes.
The grant money will be used to:
Repave the existing Northwest Branch Trail from the Prince George's boundary to the end of the trail in Montgomery County and replace bridges and fords across side streams
Develop a shared-use path between the Northwest Branch Trail in Chillum Community Park and the path that links Avondale Community Park to Eastern Avenue in DC
Improve Sligo Creek Trail safety at major road crossings with high-traffic speeds and volumes, enhance ADA access, and bring this 30+ year-old shared-use path up to current standards in Prince George's and Montgomery Counties
Add to existing funding for phases 2-6 of the Central Avenue Connector Trail
Design and construct a new 10-foot-wide trail from the current trail terminus at the DC-Maryland border to the Naylor Road Metrorail Station in Prince George's County
Sligo Creek Trail is a 10.2-mile hard surface trail located along Sligo Creek Stream Valley Park, in Silver Spring. The Northwest Branch Trail is 11.7 miles long—nine miles are natural surface, and the remaining 2.7 miles are hard-surface trail. Together, both Departments bolster 233 miles of trails throughout Prince George's and Montgomery Counties for walkers, bikers and equestrians. Explore the trail network at pgparks.org/parks-trail and MontgomerParks.org/trails.
About The Commission
Founded in 1927, The Maryland-National Capital Park and Planning Commission (M-NCPPC) is a nationally recognized leader in land use planning, parks, and recreation achieving countless awards for innovation, stewardship, and exemplary vision for enhancing the lives of current and future generations for Montgomery and Prince George's Counties. The agency improves the well-being of over two million residents and countless visitors within this region by planning the coordinated and harmonious physical growth and development of the region; protecting and stewarding natural, cultural, and historical resources; providing an award-winning system of parks; creating recreational experiences that enhance the quality of life of all individuals; and planning great communities that are vibrant, livable, accessible, and sustainable. For more information, visit www.mncppc.org.