News
M-NCPPC, Department of Parks and Recreation, Prince George's County Celebrates Hispanic Heritage Month
September 5, 2023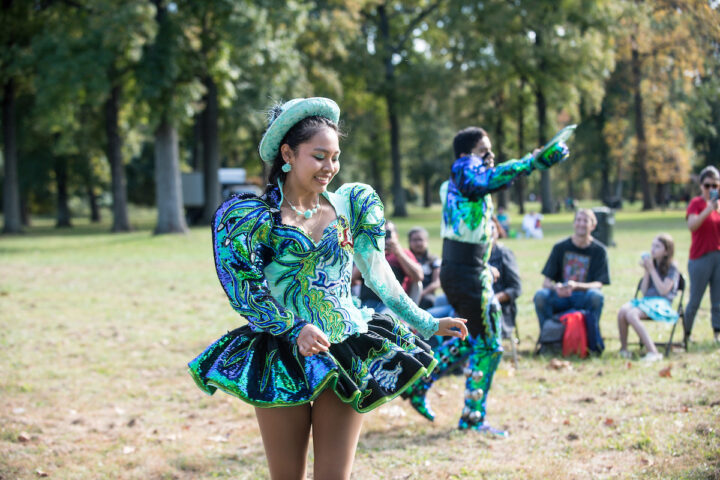 RIVERDALE, Md. – M-NCPPC, Department of Parks and Recreation, Prince George's County announces its official Hispanic Heritage Month programming for 2023. The Department celebrates the history, culture, and contributions of Hispanics. Starting September 15 through October 15 the community and media are invited to attend many family-friendly events.
Become immersed in the heart of Hispanic Heritage and experience the vibrancy of Hispanic traditions through such programs listed below. For a full list of Hispanic Heritage Month offerings, and to register visit pgparks.com.
¡Celebración! Mes de la Herencia Hispana
Saturday, September 16, 2 pm – 6 pm
Publick Playhouse
5445 Landover Road, Hyattsville, 20784
Kick off Hispanic Heritage Month with a FREE family-friendly celebración, including an art exhibition of Puerto Rican artist Alfredo Ortiz, the 2023 Hispanic Heritage Month poster unveiling, live music, dancing, and light refreshments. The Hispanic Heritage Month poster was produced by talented Prince George's County high school student artists in partnership with Pyramid Atlantic Art Center and it showcases the national Hispanic Heritage Month theme "Prosperity, Power, & Progress".
Sunday, September 17, 12:30 – 5:30 pm
Lane Manor Park
7601 West Park Dr. & University Blvd., Adelphi, 20783
It's a Hispanic Heritage Month tradition in Prince George's County. The Hispanic Festival offers music, live entertainment, delicious ethnic food, craft vendors, displays, carnival games, and much more. Performers include the folkloric dance group Marimba Valle Verde from Guatemala, Orquesta Cenizas, Nora Reyes y Su Mariachi, and La Furia Banda. Every year the festival brings more than 10,000 people to Lane Manor Park in Adelphi to celebrate the culture and heritage of Hispanics in the DC/Maryland/ Virginia metropolitan area.
Concierto: Tito Puente Jr. Orchestra
Saturday, September 23, 8 pm
Publick Playhouse
5445 Landover Road, Hyattsville, 20784
Son of legendary American salsa and Latin jazz Tito Puente, Tito Puente, Jr. is one of today's most exciting Latin musicians. Join us for an electrifying performance at Publick Playhouse in honor of Hispanic Heritage Month.
Saturday, September 30, 10 am – 4 pm, rain date October 7th.
Bladensburg Waterfront Park
4601 Annapolis Rd., Bladensburg, 20710
The Festival del Río Anacostia is a bilingual (Spanish/English) environmental event for the whole family to learn about the Anacostia River, and to become better stewards of the river and its watershed in Prince George's and Montgomery Counties of Maryland and the District of Columbia. This is the seventh year in a row for Festival del Río Anacostia to engage the Latino community by celebrating the Anacostia River. We celebrate the Hispanic heritage of our communities and seek to connect them to their local environmental resources working to make the river a healthier public asset. Enjoy a day of live Latin music, food vendors, and learning more about how we can protect the river.
Saturday, October 14, 10 am – 4 pm
College Park Aviation Museum
1985 Corporal Frank Scott Drive, College Park, 20740
In celebration of Hispanic Heritage Month, join the M-NCPPC, Department of Parks and Recreation's College Park Aviation Museum and Airport, as we honor Latinas in aviation. Watch as pilots featured in the Latinas in Aviation book fly into the College Park Airport and share their unique experiences and passion for aviation. This one-of-a-kind event gives you the opportunity to meet and hear from contributing authors while learning about the magic of aviation. Explore static aircraft displays interactives, presentations, children's activities, mentorship circles, and scholarship opportunities throughout the event.
About the Department
With over 52,000 acres of parkland, trails, athletic fields, and more – M-NCPPC, Department of Parks and Recreation in Prince George's County provides an award-winning park system through progressive, quality, innovative leadership and a commitment to its community and environment. The Department delivers first-class recreational activities and programs for people of all ages and ability levels. It strives to improve the quality of life for residents in Prince George's County and the communities in which they live, work, and raise families. The Department's facilities and services continue to evolve and expand to keep pace with the needs of its vibrant community. For more information, visit www.pgparks.com.