News
Celebrations for New Dog Park and Community-Designed Park Upgrades Announced
June 29, 2023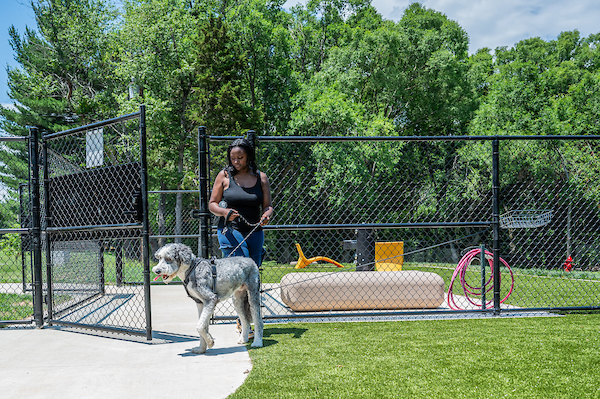 FOR IMMEDIATE RELEASE: June 29, 2023
Media Contact: Angel Waldron, 301-446-3311
Department of Parks and Recreation, Prince George's County
Riverdale, MD – The M-NCPPC, Department of Parks and Recreation in Prince George's County is happy to announce two events on July 8 to celebrate 1) our new and only dog park in the southern area of the county and 2) the unveiling of community-designed park upgrades, also in the southern area.
Tanglewood Community Park
Saturday, July 8, 10am – 12 noon | 8339 Woodyard Rd, Clinton, MD 20735
See enhancements to the park with a focus on the basketball court and loop trail. Learn how the Department, County Council, the Wills Group and Dash In, MTC Art Studio, and the Neighborhood Design Center came together to work with Clinton residents to reimagine and upgrade the Park. Enjoy inaugural basketball shots, music and refreshments after remarks.
Riverview Dog Park
Saturday, July 8, 12 noon – 2pm | 10601 Riverview Rd, Fort Washington, MD 20744
Join us for "Pups and Popsicles" to give area dogs and their people a first sniff of this 28,000-sf dog park with separate areas for small dogs (8,000 sf) and large dogs (20,000 sf). Park features include:
Drinking fountains and washing stations
Toy baskets and leash hangers
Waste stations
Play features
Human seating – movable chaise lounges that provide seating/lounging for humans and can be moved/arranged to create play features for dogs
Self-closing gates with ADA compliant latches
Fencing with black-vinyl coating – visually blends into the forested background
Four types of surfaces: Concrete entry plazas; Artificial turf; Lawn; Rustic "woodland" areas (mulch/woodchips)
Environmental site design applied during construction: Minimal grading; Minimal tree removal
The Department looks forward to welcoming members of the community, furry and otherwise, to enjoy a bark in the park, a pop with your pup, and a tail-wagging good time!
About the Department
The M-NCPPC, Department of Parks and Recreation delivers an award-winning park system through progressive, innovative leadership and a commitment to the community and the environment in Prince George's County. For more on the Department of Parks and Recreation, visit www.pgparks.com and stay connected on Facebook, Twitter, PhotoShelter, and Instagram. The Department of Parks and Recreation encourages and supports the participation of individuals with disabilities in all programs and services. Register at least a minimum of two weeks in advance of the program start date to request and receive a disability accommodation.