News
2023 Juneteenth Festival
June 8, 2023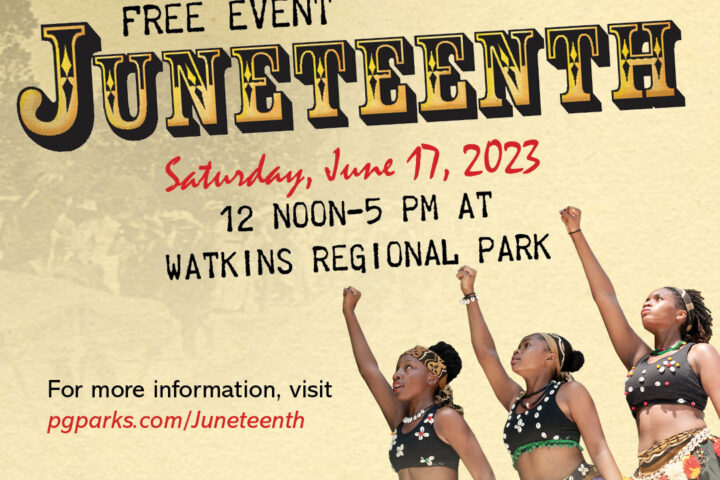 FOR IMMEDIATE RELEASE: June 8, 2023
Program Contact: Dr. Dennis Doster, 240-264-3415
Media Contact: Angel Waldron, 301-446-3311
Juneteenth Festival Announced by M-NCPPC, Department of Parks and Recreation,
Prince George's County
Riverdale, MD – The Department of Parks and Recreation in Prince George's County, part of the Maryland National Capital Park and Planning Commission, is pleased to announce its 2023 Festival for Juneteenth: the oldest nationally celebrated commemoration of the ending of slavery in the United States. Marking the date that the last enslaved people learned of their freedom, the month of June and the nineteenth day were combined to form the word Juneteenth.
As a part of the Department's ongoing mission to provide exciting and unique cultural programming to county residents, the Juneteenth Festival is a must-attend event for the young and young at heart. The festival takes place Saturday, June 17th at Watkins Regional Park from 12 – 5pm and includes:
Live entertainment – Avery Sunshine, Rare Essence, Proverbs Reggae Band, DuPont Brass Band, Brencore Allstars Band
Visual art exhibition – "My Coloured Girls" by Bevadine Zoma Terrell
Arts Activities – Arts on a Roll, Taratibu Youth Association, Bubble Wands with Blessed Hands Bless, DC Face Painters
History Activities – Freedom Cabin, Sankofa Mobile Museum Preview
Food and merchandise vendors
Non-profit exhibitors
The 2023 Juneteenth festival is a FREE event. To learn more, visit http://www.pgparks.com/Juneteenth.
About the Department
The M-NCPPC, Department of Parks and Recreation delivers an award-winning park system through progressive, innovative leadership and a commitment to the community and the environment in Prince George's County. For more on the Department of Parks and Recreation, visit www.pgparks.com and stay connected on Facebook, Twitter, PhotoShelter, and Instagram. The Department of Parks and Recreation encourages and supports the participation of individuals with disabilities in all programs and services. Register at least a minimum of two weeks in advance of the program start date to request and receive a disability accommodation.